Resources, Guides & Information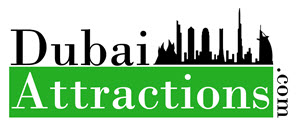 Explore.....Dubai Attractions
Against a backdrop of futuristic city design and timeless desert, East meets West with an unmissable mix of architecture, tourist attractions, culture, and events to satisfy the most demanding of visitors.
The biggest, the tallest, the most luxurious. World class dining, entertainment events and exhibitions, and international sports. Adrenalin-fuelled and fun-filled activities. Sun, sea, beaches, mountains, snow, and desert.

To say the list of Dubai attractions reads like a who's who of unmissable entertainment is an understatement.......
''...you won't know where to look first....you won't know what to do first....''
The Emirate is earning the highest tourist industry accolades for its attractions. If you're planning a visit, prepare for an assault on your senses

Dubaiattractions.com is dedicated to listing easy to follow information on everything you'll need to plan your activities on a Dubai vacation, holiday, or short business or leisure stopover.
Latest News & Developments
One great way to get to sample a destination's attractions is with a 360 degree panoramic video, and the website at Dubai360 provides the perfect opportunity to
see Dubai's attractions from all angles
without actually visiting. You'll find hundreds of night and day panoramic videos on the site, compiled from a collection of close on half a million images woven together to create over 2000 different panoramas.
Gulfnews is the biggest current affairs website for the Middle East region. It carries an extensive listing of
Dubai news items
over recent years, with constant updates on all aspects of local and international news and developments.
ArabiaBusiness.com articles on Dubai
GulfBusinessNews.com
TheNational.ae
Dubaichronicle.com
is an online news, events, and opinions magazine which carries some valuable info and articles.
If you need some travel info and cannot find it here, there's a valuable
Wikitravel page
that may help.
The official portal of the Dubai Government - Dubai.ae - carries an extensive collection of
valuable information for visitors
.
The well know destination guide LonelyPlanet is a useful resource of information for visitors or planning a trip. The
LonelyPlanet Dubai guide
is packed full of valuable info.
Social sharing sites are a great way to get extra and up to date information on any subject. You can use both
Twitter
and
Facebook
to get a view on what's being talked about in Dubai on the respective channels and fan pages.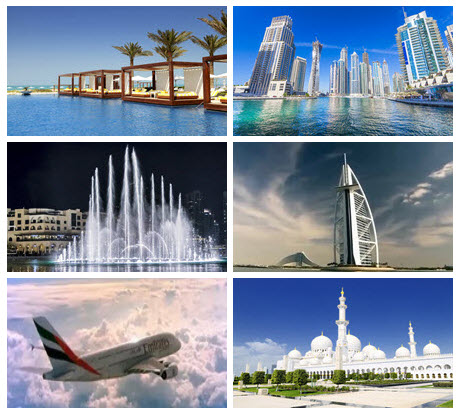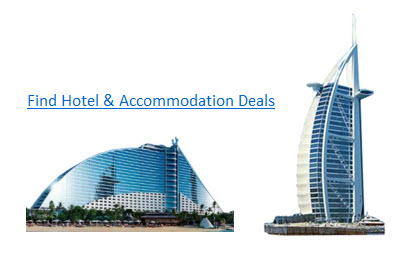 So there you have it - the attractions of Dubai laid bare for all to see. If you're planning a visit there are plenty of options to fill your time, in fact it's highly likely you won't be able to fit it all in.

In the early 1990's Dubai was a city with one high rise building, and by 1995 there were only two higher than 150 metres in the entire Middle East. The desert still ruled. Fast forward 20 years later and any visitor would find a stunning metropolis, replete with every imaginable form of entertainment and luxury. Close to a thousand buildings now dominate the skyline, and by the end of 2015 the count of high rise buildings among those will have reached over 190 across the UAE.

As we progress through 2014, the Emirate seems to be just at the start of that astounding development. The potential end point to that ongoing development could be considered to be the 2020 Expo, but the reality is that it extends much further than that. The history books of 2020 and onwards may well be pointing to the fact that Dubai has become one of the best tourist destinations on the planet, if not the best.

Certainly Dubai will play its part in the emergence of the Asia region as a dominant world force in the business and leisure arena. There are some forecasts that the Asia region overall will account for something like 45% of global air travelers by around 2030.

In the Emirate right now, 5 and 6 star hotels are the norm. Islands in the sea built from nothing. Great food. Glorious white sand beaches. Watersports. Adventures. The biggest entertainment and shopping complex(es) in the world.

As interest in visiting the Emirate grows, the chances are that will have an exponential effect on tourist developments in the region. It's a certainty that the number of Dubai attractions will only see an upward curve in numbers.

Summary
Dubai's amazing and ever growing infrastructure is by now a common draw to the region. From drawing millions of tourists to top-notch global brands from around the world, Dubai is virtually unmatched in modern growth.

So it comes as no surprise that the Emirate is in the process of breaking ground on numerous development projects. From Dubai Parks and Resort, to the Dubai Design District, and the Trump World Golf Club, Dubai is set to unveil many projects and developments of new attractions in the coming years.

Besides these three examples, let's take a quick look at some of the other developments that look to add to Dubai's already inviting allure and infrastructure.



Longest Indoor Ski


Another world breaking development is on the way, specifically aimed at skiers. Meydan One is the development's name, and in addition to the longest indoor ski slope in the world, it'll also offer the tallest residential tower, the highest restaurant, and the largest dancing fountain.

It's the ski slope though that's likely to generate the most interest - an artificial snow covered slope around 1.2 kilometers long or around 4000 feet. At this length it promises to run from the horse racing track at Meydan to the Burj Khalifa. Completion is expected by 2020.



La Mer Development
- With Dubai's residential market on the upswing, and retail development constantly growing, Dubai-based real estate developer Meraas Holding has decided to add luxury and entertainment to the mix, with a beachfront landscape, and create the luxurious Le Mer.

Spreading across 9.5-million square-feet in the heart of Jumeirah, Le Mer will feature a North and South Island that will play host to amazing residential areas that will consist of 688 apartments and villas as well as a 160-key hotel.

But the main core of Le Mer will cater to leisure and entertainment minded visitors. With plenty of retail and restaurant options planned, the beachfront will play an especially attractive role. Not only for the amazing unobstructed view of the Arabian Gulf, but for the youthful activities planned for the sand, such as an outdoor gymnasia, to a skate boarding area and beach sports. Add to that a beautiful beachfront park and two marinas for yacht activities, La Mer looks to see the best of Dubai's relaxation and fun all in one beachfront development. Set to break ground towards the end of 2014, no final completion date has been set.


Deira Islands
- The development of Deira Islands is going to be an amazing feat, as well as an amazing destination once complete. When finished, the Deira Island project looks to expand on the beachfront sector that will consist of four islands. In true Dubai fashion, these islands will offer the best in luxury and relaxation that Dubai has to offer, offering 21-kilometers of new beachfront. Nine new beaches will also rise from this new beachfront.

In phase one of the project, master-developer Nakheel look to complete two islands that will offer more than 23,000 hotel keys, as well as 31,000 apartment keys on roughly 600 plots throughout the two islands. This is sure to help accommodate for the expected draw of extra tourism interest. Especially with Expo 2020 right around the corner.

Deira Islands looks to feature not only resorts and hotels on this new beachfront, it also looks to expand the retail and residential markets for the area. Two new malls will help in accomplishing this goal. Also, two main features will include a Night Market and the Board Walk to help feature the new beachfront.

Nakheel Chairman Ali Rashid Lootah had this to say about the project:

" Deira deserves more attention. We will be targeting three and four-star hotel operators to build on the Deira Islands site, since there is a definite lack of waterfront hotels from that price range in the current Dubai market." He also went on to say, "Now, by applying the innovative design and engineering that we are known for, we are creating Deira Islands, yet another world-class, waterfront wonder that will further cement Dubai as a global tourism, retail and business hub and contribute significantly to the Emirate's economy for decades to come."

With no exact completion date for the entire project announced as of yet, it has been said the project's full completion could take up to 10 years.


Mall Of The World
- 48 million-square-feet of mall. This is what Dubai Holding is looking to build and announce as the world's largest mall. While it may be called the Mall of the World, in terms of the sheer amount of attractions planned, it may as well be a self-contained, climate controlled city. Perhaps the best way to even begin to describe the Mall of the World is to list some of the main features planned.

- The world's largest indoor family theme park. This theme park will have a retractable promenade and dome that will open during the winter.

- A Wellness District that will offer everything from spa treatments, cosmetic surgery, clinics, outpatient surgery, and even cosmetic surgery.

- A Cultural District that will feature theatres based on New York's Broadway and London's West End.

- A Shopping District that will emulate streets based on Rodeo Drive, Oxford Street, and Spain's la Rambla. In all, the climate controlled streets of the Shopping District will cover 4.3 miles.

- Over 20,000 hotel rooms will be featured through 100 hotels as well as apartment buildings.

- A car park that will accommodate 50,000 vehicles at ground level.

All of this is in addition to the estimated 8-million-square feet of retail, restaurant, café, and even more hotels that will make up the main mall area. And to top things off, all of this will be connected to a tram-system. While no completion date has been set for this development, it is estimated to be completed in time for Expo 2020.




Jumeirah Gardens
- Originally announced in 2008, the USD $98 -million Jumeirah Gardens has had to overcome some obstacles to becoming a reality. But news from early 2014 has this project slated to continue in its development.

This is great news for Dubai not only from an economic standpoint, but Jumeirah Gardens is unique in that it has been designed with sustainability in mind. This city within a city, planned by Meraas Development, has been planned with "Green" buildings in mind that will utilize intelligent infrastructure technology and cutting-edge eco-design. This project alone is estimated to accommodate a population of 50,000 to 60,000.

With this in mind, the architectural highlighted buildings in Jumeirah Gardens will be Park Gate, 1 Dubai, 1 Park Avenue, and Meraas Tower. The surrounding area will consist of seven districts, including the islands, and will cover 110-million-square-feet.

With all of the self sustaining architecture, and the high profiled features planned, such as Atrium City and the East Park Zone for Jumeirah Gardens, Dubai looks to offer yet another amazing development that will offer the best for leisure and recreation, as well as retail and prime residential space. The estimated completion date for this project is set for 2021.



Dubai World Central
- Perhaps the best way to describe Dubai World Central is to quote H.H. Sheikh Ahmed Bin Saeed Al Maktoum, Chairman, Dubai Aviation City Corporation, Government of Dubai himself:

"Dubai World Central is set to be the aviation and logistics hub for Dubai as well as the wider region including the Middle East, the Indian subcontinent, Africa and the CIS. Historically, it is one of the most important and significant urban city developments, and will truly transform the region into an economic superpower, facilitating seamless trade and transport lanes that will provide a catalytic push in Dubai's drive for growth and governmental excellence. With Dubai World Central, we are taking the future into our own hands."

With that said, Dubai World Central is set for a USD $32-billion expansion that will expand passenger accommodation to 120 million. The expansion will be able to also accommodate 100 Airbus A380's at any one time. This is just the first phase.

All of this comes after Dubai World Central opened last year and began servicing five to seven million passengers. While the expansion is set to begin by the end of 2014, the project is estimated to take six to eight years to complete. As for phase two, no schedule has been set as of yet.

With the completion of this new expansion for Dubai World Central, Dubai will certainly be the ultimate gateway to anywhere in the world. Not to mention the implications it will have on international business and commerce.